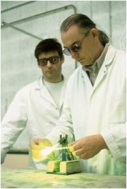 OVERVIEW
For persons whose teaching responsibilities are primarily in a one-on-one environment
Managers, mentors, and experienced performers are often in the position of providing one on one instruction to a subordinate or less experienced colleague. This may also occur as a component of a formal or informal OJT program. This workshop provides the tools and techniques to cause learning and retention in a one on one instructional environment.

COURSE OBJECTIVES

By the end of this workshop, participants will be able to:
Describe the challenges of teaching and learning in a one on one instructional setting
Perform a job and task analysis to determine what to teach and what not to
Use appropriate instructional strategies
Orchestrate practices which build self-sufficiency and confidence
Identify the best instructional sequence
Give performance feedback effectively
Perform effective demonstrations of equipment or processes
Use job aids and knowledge resources to supplement training
Accommodate the learning styles and preferences of your trainee
This is a true "hands-on" workshop. Participants will be asked to bring their own subject matter for practice purposes.

COURSE TOPICS
The challenges of teaching and learning in a one-on-one instructional environment
How to break a job down into component tasks; how to determine what to teach and what not to
Tips and techniques for effectively demonstrating a skill to a trainee
How to give effective performance feedback
How to help the trainee achieve self-sufficiency in the shortest possible time
How to use instructional strategies like questions, analogies, mnemonics and others
How to determine the most appropriate sequencing of instruction
How to know if your trainee is really "getting it"
How and when to develop job aids, knowledge resources, and other performance support tools
How to accommodate different learning styles and preferences in one on one teaching
VARIATIONS
This 1.5 day workshop can be:
Customized to your organizations specific content needs and priorities
Taught within the U.S. or internationally